Board & Seabury Recognized at Monthly Board Meeting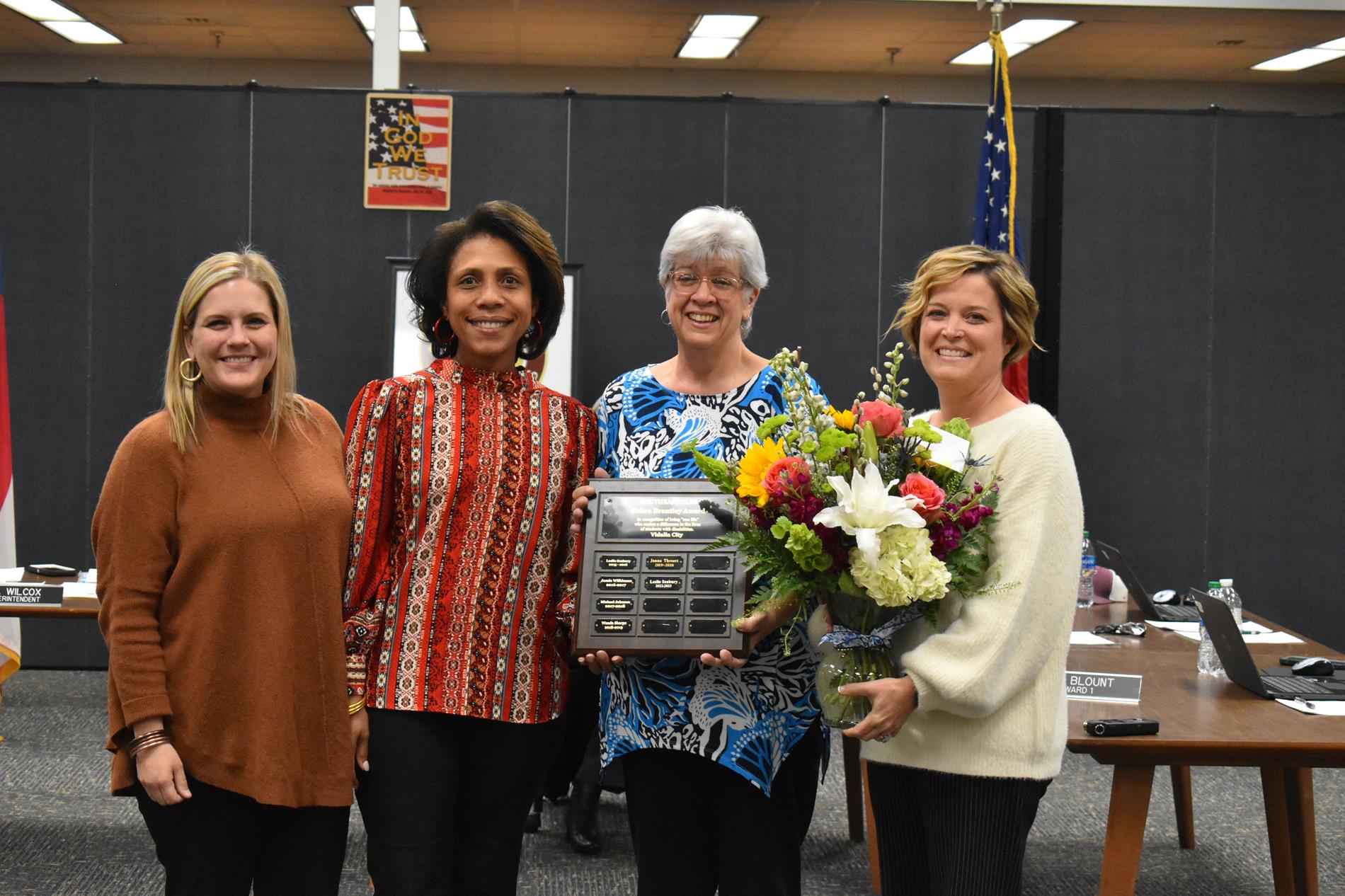 ---
During a busy regular monthly session of the Vidalia City Board of Education, one educator and the entire Board of Education were recognized. Leslie Seabury, a Special Education Teacher at J. R. Trippe Middle School, was honored as the System's Special Education Teacher of the Year. Also, in recognition of BOE Week in Georgia, the Vidalia Board of Education was recognized for its commitment and service to the students and teachers in the Vidalia City School System.
Katrina Blount-Woodard, Director of Student Services for Vidalia City Schools, presented Seabury with the Debra Brantley Award for her outstanding work in Special Education. Blount-Woodard spoke about the award and how Brantley had advocated for students with disabilities, "Debra Brantley was a pioneer and a true advocate for the students she served. I was fortunate to have worked with Debra and witnessed the qualities that she had, and Leslie has these same qualities and more than deserves this recognition. Anyone who knows her knows her heart for her students and her profession."
Superintendent Dr. Garrett Wilcox next spoke about the Board of Education and their dedication to serving the community in their roles. "I commend you for doing a job with no reward, other than knowing that you are making a difference, and an occasional thank-you. You see, our Board is not compensated for serving, and yet they choose to try to make a difference in the lives of our children and teachers. Thank you for all that you do and for making our student's success a priority."
The Board was presented a gift bag, which included a Vidalia City School District pullover, a $20 gift card courtesy of Barberitos of Vidalia, and a gift card courtesy of Chick-fil-A in Vidalia.
During the meeting, Dr. Wilcox informed the Board that the Centegix Crisis Management System was now in place and operational. "This of course gives our teachers and staff the ability with the simple push of a button on a wearable badge, an alert that instantly reaches administrators and responders in the event of an emergency or crisis."
The Centegix Crisis Alert empowers staff with the fastest and easiest way to get help in emergencies, from the every day to the extreme. Crisis Alert is unique for its ability to deliver precise alert location, immediate audio and visual incident notifications for campus-wide incidents, and 100% full campus coverage. Crisis Alert also has 100% user adoption, a critical component of comprehensive safety.
The Board also approved a resolution to request GADOE assistance in developing a new Five-Year Local Facilities Plan.