Roper Honored by BOE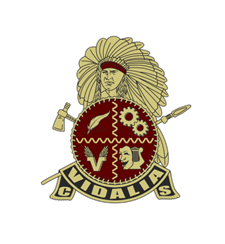 ---
During the regular meeting of the Vidalia City School Board, longtime Board Member and Ward 1 representative Doug Roper was honored by the Board for his years of service and commitment to the Vidalia City School System. Roper, who has served since 2011, resigned his seat to qualify for the City of Vidalia's Mayor's Election, which will be held November 3rd.
Roper, a 1995 Graduate of Vidalia High School, where he helped the Indians win their first-ever State Championship in Baseball, said that serving on the Board has definitely been a highlight "to be able to walk these halls, graduating from here, competing with a jersey on that represents this system and to be back as an adult, and to serve on this board since 2011 has been an honor and is one of my highlights."
Roper who also served as the President of the Georgia School Board Association in 2015-16 was presented with a bust of an Indian Chief for his service, and Superintendent Dr. Garrett Wilcox lauded Roper's service to the board "when Doug came onto this Board, he didn't have any kids in the system, but he worked as if every one of the students was his. He has had a high passion for not only this school system but also for the community. You think about it, here's a young man who played baseball in college and the pros and could have gone anywhere else to raise his family, but chose here. And not only did he choose to come back home, but he also chose to get involved and make a difference. It's been a pleasure to serve with him, and I thank him for the time and the effort that he has given to this Board to try and make our schools better."
Roper, who also served as Vice President of the GSBA in 2013/14 and President-Elect in 2014/15, says that his passion for education is deeply rooted. "Public Education is something in my household that we have talked about for years as being the backbone of our community and our country. We have teachers who not only provide for the educational needs of our children but also their emotional and spiritual needs."
When asked about what he was most proud of accomplishing during his term, Roper pointed to the graduation rate "I am so proud of the progress that's been made as a system in raising our graduation rates. Mr. Sharpe has challenged that staff to produce an extremely high graduation rate, and I think that's a reflection on the system. That doesn't just start at the high school level, but it starts at J.D. Dickerson and works itself through the chain, and I am extremely proud of that."
And although Public education continues to take hits from the outside, Roper had some powerful words to those who say that the system is broken "I really think you need to get involved. Instead of being a voice that just says that something is broke, you should really self-reflect and look in the mirror and ask yourself if you really have a good picture of what's going on inside our school systems communities because I can tell you that some of the finest people that we have in our community are teachers. And they pour themselves into kids, no matter what, and they continue to meet the high standards that are asked of them.
To hear the complete interview Click Here