Teachers of the Year Recognized!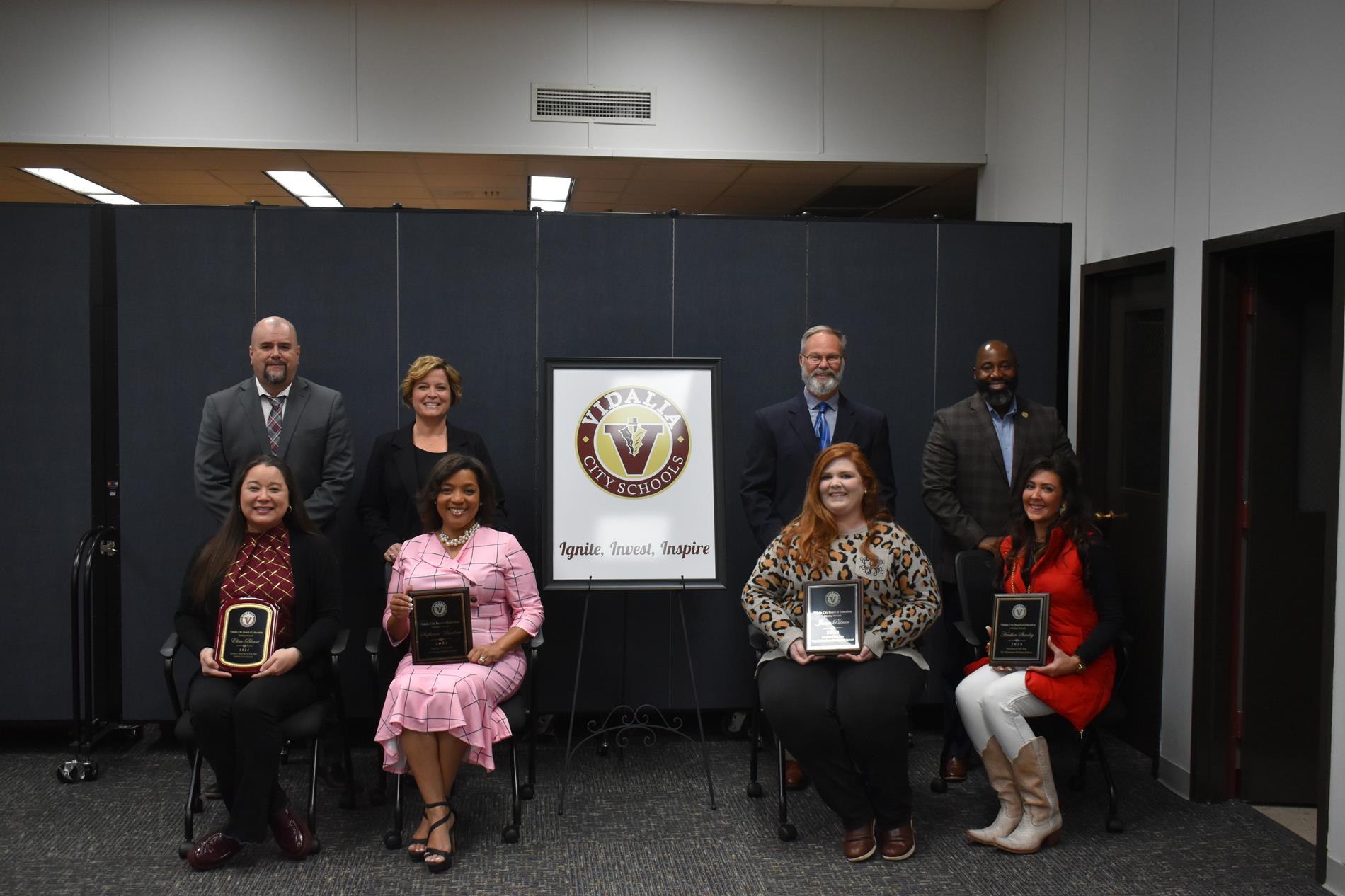 ---
During the regularly scheduled meeting of the Vidalia Board of Education on Tuesday, the Board, along with superintendent Dr. Garrett Wilcox, took time to honor the Teachers of the Year for each school.
J.D. Dickerson Principal Brandon Boston introduced their teacher of the year, Heather Stanley. "At JDD, we're all about the team, and I'm blessed with an amazing team," said Boston. "Tonight, we're here to recognize one of our teammates Heather Stanley as our teacher of the year. At JDD, our goal is to give every kid a strong foundation academically, behaviorally, socially, and emotionally. And she does that day in and day out. She loves her kids, past, and present. The other day, we had a kid who's in first grade. He's moving, but he had to see Ms. Stanley before he left. And that shows you the impact that she makes on her kids."
Boston continued by saying, "She's done pre-K for close to 10 years, Think about that. Pre-K, for 10 years. It's what I say is organized chaos, but through everything she does, you see the love and care she has for her kids."
One of her coworkers said, "I would have to say in this day and age that she is truly one of the educators God has called."
Stanley thanked everyone and said she was honored. I don't know what else I can say. "I have the best team, as you can see, and I am honored to be at JD Dickerson. Mr. Boston is fantastic, and I love what I do. I absolutely adore the children, and I love that I get to influence these kids and that I get to invest in them."
Sally D Meadows Principal Scott Stephens began his presentation of their teacher of the year by saying, "Vidalia stands for excellence, and nobody embodies that more than Ms. Janna Palmer. And I say that for a number of reasons. First, I've got teachers on the second-grade hall that are three years younger than Stetson Bennett. And so, I needed somebody who could bridge the gap and lead these young women and be able to deal with the veteran teachers. Ms. Palmer bridges that gap for me. She has become the second-grade team leader, and she has done this with such variance and so much discipline and love and she cherishes that moment each and every day, and she mentors our young teachers. She works well with our veterans and she is a, a mentor to not only the special ed teachers, but the general ed teachers as well. She's done a phenomenal job."
Palmer began by thanking her parents, "I want to thank my parents who have supported me in every single way. Also, to Mr. Stevens and Mr. Helms, who always backed me no matter what I had on my plate. And also, Megan Williams and Bryson, who keep me sane. They're my co-teachers, and they're here, and I couldn't do what I do without them. So, thank you. And also to Ms. Cooper, who's been a mentor to me and just one of the best friends that I have. So, thank you very much. I appreciate it.
J. R. Trippe Principal Dr. Sandy Reid began her presentation by saying, "I have the privilege and honor of introducing our teacher of the year at J. R. Tripp, who is one of the most, charismatic. big hearted, individuals you will ever meet, Stephanie Wardlaw."
"People that I know, say that her personality is so big, it fills any room that she walks into," said Reid. Reid went on to say that Wardlaw is a Champion in every sense of the word. "Champion is being a person who fights for and defends what's right and honorable and, fights for something that's important to them."
Reid continued by saying, "every child needs a Champion, and every child needs somebody in their corner. And Ms. Wardlaw ensures every child has that person in their corner. And she really is a big-picture person. She's not just about immediate academic needs. It's not about immediate physical needs. It's not about the long-term. It's about the whole picture. And that's what she does. She is a champion for the whole child, and she always, backs every child and tries to get them what they need."
"I would like to thank God for this opportunity to be able to allow teaching to be a part of my ministry." Said, Wardlaw. "I see this as something that God has put in me, put in my DNA to be able to give back to everybody else. However, I might not know how to do it, but I'll find somebody who can do it so that those students will have the opportunity that they deserve, regardless of where they're from; they can become positive contributors to the community so that our community can grow."
Vidalia High School Principal Bruce Mulkey said, "I have the honor of not only introducing the high school's teacher of the year but also our school system teacher of the year."
"Tonight's it's difficult to stand in front of you and to articulate why Elissa Blount is worthy of this recognition. But there are three things I want to talk about." Mulkey said. "First she is a master teacher and she's a master at her craft. In my opinion, everything we do as teachers falls into one of two categories." Mulkey added.
"It's the science of teaching and the art of teaching. Science of teaching is the research, whether it be brain research, it's best practices, all of those things that we know that people have studied about teaching that will make us better. And then the art of teaching is a little more difficult, and that is that get factor. You know the ability to connect with kids that others have a hard time with. The ability to make adjustments on the fly, to have a plan to go in and realize quickly this is not working, and to be able to make an adjustment and to pull something positive out of that lesson. Most of us, as educators can do one or two very well; master teachers do both of those very well, and Elissa certainly falls into that category."
Mulkey continued by saying that while Blount is at the top of her profession, "she also has a relentless pursuit of getting better."
"The last thing and what is most important to me," Mulkey says, is that "she's a role model for all of the teachers in our building." When I talk about a role model, Elissa has been out in front of the changes we are making to get even better. Although she's the best in our building, she understands what we're trying to do, and she has a role; she's a role model for other teachers, and I'm forever grateful for that."
"It truly is an honor to be in this position." Blount began. As a little girl, all I wanted to do was teach, and I knew that was a calling on my life that God had placed there. And to live your dream every day, you know, there's something magical about that. There's something awesome about it."
So, I am truly honored to be considered by the high school teacher of the year and the system teacher of the year. It is one of the best systems ever, even if it's the only place I've ever taught. I had Ms. Morris, I had Ms. Roper, I had excellent teachers in my life that inspired me, and because of their inspiration, I'm able to do that with the students that I teach, so thank you so much!"
The Teachers of the year and the System Teacher of the Year all received a plaque and will receive a monetary award from the Vidalia City School System.